FINISH PROCESSES AVAILABLE
A proper finish system can contribute maintenance-free beauty and design compatibility.  BarnettBates can supply your custom steel or aluminum components with a wide variety of finish systems, per your requirements.
Steel Grating - Typically, bare steel, hot-dip galvanized or black shop coat finish meets most project requirements. Various liquid prime/topcoat finish systems, as well as TGIC polyester powder coat finish systems are also available ... including our recommended "BB-20"System.
Steel Architectural - Many projects in this category require a hi-quality, long lasting and maintenance-free finish. Liquid prime/topcoat finish systems and hot-dip galvanizing are available, as are TGIC polyester powder coat finish systems including our highly recommended "BB-20" System.
Aluminum Grating and Architectural - Our recommended "finishing touch" for aluminum grating and architectural fabrications is also the "BB-20" TGIC polyester powder coat finish system. We consider it the best in the industry. Color anodized and clear anodized finishes are also available.
RECOMMENDED: The "BB-20" 20-year limited warranty polyester powder coat finish system described below. We believe this process to be the best in the industry… nearly double the industry standard warranty - at the same price. Contact us  for complete information and quotation.
Blast Phase
All fabricated product to be 100% sandblasted to white metal condition for complete removal of scale, oil and debris creating a minimum 1 mil etching for proper adhesion.
Prime Phase Alternatives Depending upon usage environment, BarnettBates may recommend either "A" PROCESS, "B" PROCESS,  hot dip galvanizing (ASTM 123) or other zinc plate coating for proper prime.
"A" PROCESS
Parts washed and zinc phosphated in an 8-stage electro deposition e-coat pretreatment process.
Immersion in liquid electrically charged epoxy for a full .7-.9 mil encapsulation moisture barrier with oven cure.
"B" PROCESS
Gray epoxy powder primer electrostatically applied and properly cured at 2-3 mil thickness.
Color Coat - TGIC Polyester powder coat application at 4-6 mil thickness. 
With material held at nearly 400 degrees f., material next receives electrostatic application of highest quality polyester powder color coat with precisely timed oven cure. 
Resulting total finish thickness is 8-12 mil. Test results show finish flexibility and superior resistance to environmental exposure and abuse in all areas of measure. (Complete testing results available upon request).
The following polyester powder coat standard colors are available for all fabricated steel or aluminum components. Call for no-charge standard color samples. However, don't let the standard color range limit your creative use of color. For an added cost (usually slight), we can offer a wide spectrum of RAL colors - and specifically match virtually any color.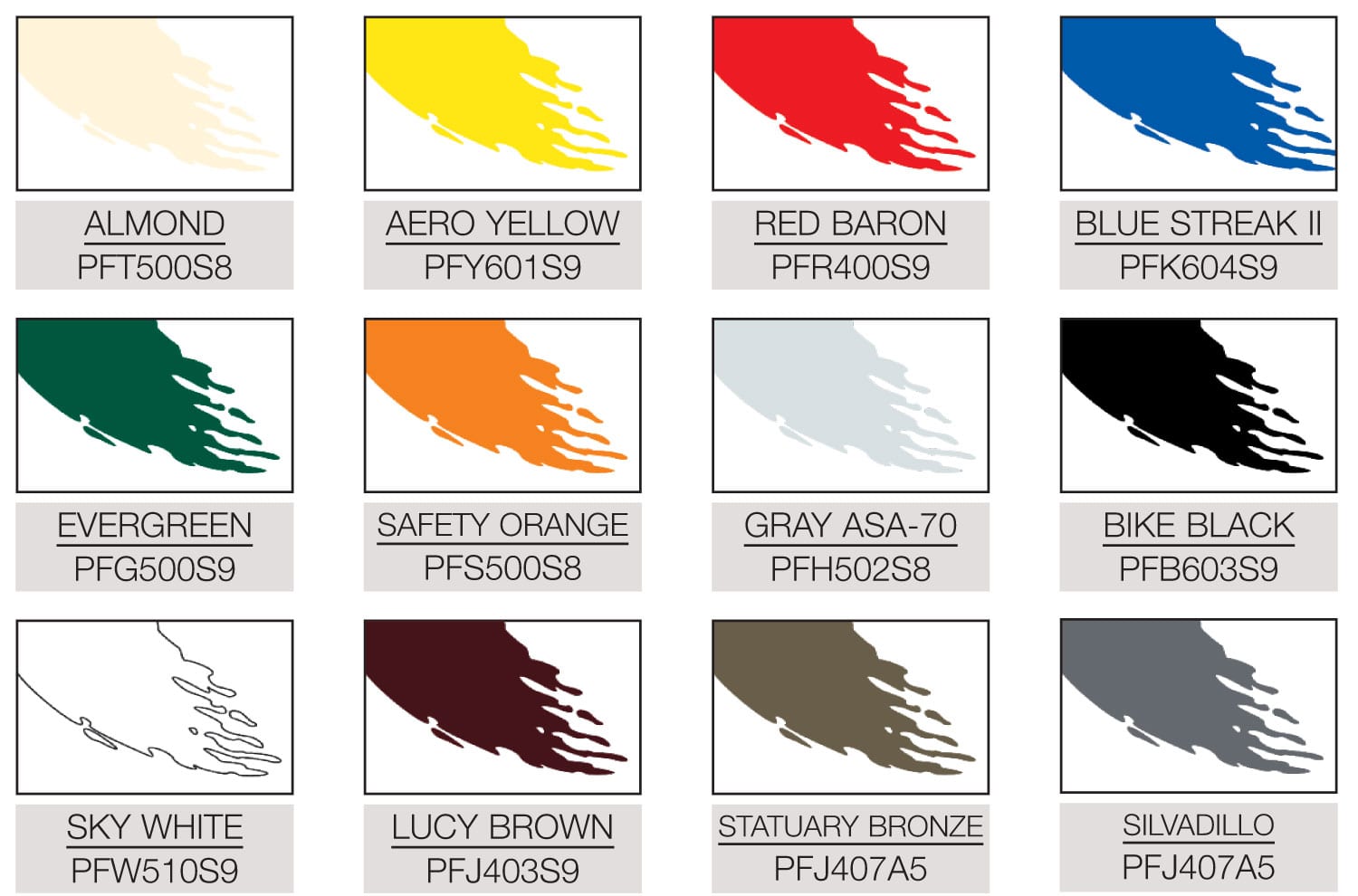 PLEASE NOTE: Computer monitor representations of these colors vary. Request samples or call to discuss your color requirements.