STEEL PATTERNS — Factory Orsogril Fabricator – 10 years
ALUMINUM PATTERNS — Exclusive Fabricator of BarnettBates Designs - 30 years
Use our BarnettBates Aluminum Systems CSI 3-Part Specification Guideline to specifiy genuine BarnettBates aluminum patterns.
Nearly every project presents problems of accommodating practical necessities into the overall design theme. Transform these challenging areas into colorful custom fabricated project features - and at the same time add a considerable element of site security. Utilize BarnettBates materials to extend color and design to dumpster gates, rooftop or ground level enclosures for generator/chiller or other mechanicals, perimeter fencing, loading dock gates, sunscreens, parking garage airflow/security balcony/handrail infill.
Consider for all projects: corporate, school/university, medical, municipal, utility substation, high-end residential and auto/shopping mall commercial. Please review available patterns and contact us for a no-charge discussion of your project, material samples, project photos and material/connection details.
Please have a look at our Photo Design Ideas for actual project photos - a similar approach may be appropriate for your current project.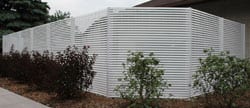 Add beauty and functionality. Enclose all unattractive project necessities - rooftop mechanical equipment, ground level generators/chillers/mechanical equipment, dumpster areas - with a rugged, maintenance free and color-coordinated louver system. Block some, most or all of the view while still providing considerable air flow. Choose steel or aluminum louver systems and specify our "BB-20" 20-year warranty epoxy/polyester powder coat system.
Add substantial security, project your featured color scheme and fully or partially block view with BarnettBates Orsogril custom-fabricated steel fixed louvers.
Note: This system does not require prior galvanizing of steel material, successfully avoiding finish roughness and potential adhesion problems . See Download Library for helpful details and specification guidelines.
Steel View Blocking Louvers – Orsogril

| | |
| --- | --- |
| | 80% or 100% view blocking steel louver. Partial or complete view blocking with excellent airflow. Note: 80% view blocking also offers discreet security/safety. Maximum strength fixed louvers are 1/16" thickness formed steel backed with welded vertical crossbars 5 5/8" intervals. Consider our unique "Hidden Post" design for smooth nearly unbroken horizontal theme. |

Orsogril Talia 80 & Orsogril Talia 100

| | |
| --- | --- |
| | The attractive and innovative design from Orsogril for steel partial view-blocking requirements. This rugged, electro-forge welded and maintenance free louver pattern material offers effective view blocking of 80%. Add an element of security while blending with overall project color and design. |

Aluminum View Blocking Louvers

| | |
| --- | --- |
| | 80% or 100% view blocking aluminum louver Partial or complete view blocking with excellent airflow. Note: 80% view blocking also offers discreet security/safety. Maximum strength fixed louvers are approximately 1/16" thick extruded aluminum louver shapes manufactured with attractive hollow-tube vertical crossbars at 8" intervals. Expert fabrication to meet your project requirements. |